Very happy mother's day
Hier ici c'était la fête des mères. J'ai découvert tout le sens de cette pub pour les chaussures crocs dont le slogan était "ugly can be beautiful" et sur laquelle on voyait une femme rayonnante portant un effroyable collier fait de grosses perles en pâte à sel peintes en marron diarrée, écrous de divers tailles, macaronis recouverts de paillettes, avec en guise de pendentif un gallet de 2 tonnes avec un "I love U" peint à la gouache magenta mal diluée. Voir cette jolie blonde avec son affreux collier me faisait sourire, être dans la peau de cette blonde là hier m'aurait presque tiré une larme. Avant d'en venir au sujet qui touche vraiment à la boustifaille et non aux loisirs créatifs, je ne résiste pas au plaisir de vous montrer le "cadre fleuri en mosaïques" ainsi que le billet doux réalisés par mon Pimpreton (de force d'après ce que m'a dit sa maîtresse mais bon...) ainsi que la boîte à bijoux avec les empreintes de pied de ma Pimprenille réalisées à la garderie. Yep c'est sûr, "ugly is beautiful".
Mais après ces petis cadeaux faits-main, mon petit mari de Bernard l'Arno a eu la délicate attention de me faire un cadeau de fête des mères typique mais jamais rasoir (enfin pour les gens comme nous qui s'endorment en pensant à Jamie Oliver ou Pierre Hermé... ou Nigella pour d'autres si vous voyez de qui je parle). Enfin pas 1 kado. Non pas 2 non plus. 4 Messieurs-dames, oui 4. Le bonheur. Un dimanche soir vautrée avec une tisane à la main à feuilleter les 700 pages de mes cadeaux. J'ai pris 7 kg rien qu'en lisant les recettes mais bon ça en vaut la peine !
Dans le désordre...
Zyryab, Authentic arab cuisine, by Farouk Mardam-Bey

Une bible de recettes du Moyen-Orient classées par ingrédients : olives, pois-chiches, pistaches, abricots, courge, etc. Chaque chapitre commence par une petite intro sur les différents usages de cet ingrédient dans les différentes cuisines de l'Algérie à la Palestine, ensuite viennent 5-6 recettes toutes plus simples et affriolantes les unes que les autres, plus un glossaire gourmet, plus un récit gourmand façon Sindbad, plus plus plus... un bouquin génial sur une cuisine que j'adore mais pratique toujours de la même façon. Ca va sentir les épices et les fruits secs par chez nous ! La première recette à tester d'urgence : the rice panada with meat.
A cook's guide to grains, by Jenni Muir
LE livre dont je rêvais depuis un moment sans le connaître. Une petite mine sur toutes les graines, du riz au quinoa en passant par l'avoine, l'orge ou le millet. Des tonnes d'infos historiques, nutritionnelles, culturelles sur chaque graine et plus de 120 recettes les utilisant. Et surtout ce bouquin de fait pas dans le "grain only" comme tous les autres que j'avais vu jusqu'à présent, si certaines recettes sont certes végétaliennes d'autres sont à base de viande, de poisson ou de laitages. Bref je fonce dans mon magasin bio préféré ce weekend et on va vraiment manger de nouvelles choses, combiner autrement les trucs qu'on utilise toujours dans les mêmes préparations. J'ai hââââte !!! Ma recette coup-de-coeur : the summer minestrone.
Classic spanish cooking, recipes for mastering the spanish kitchen, by Elisabeth luard
Mais pourquoi l'hispanophile que je suis (et prof d'espagnol à ses heures... ça y est une partie de mon identité secrète est dévoilée) ne comptait aucun livre de cuisine espagnole dans sa bibliothèque ?? Ben... par flemme je crois. Parce que les recettes que je fais sont, encore une fois, toujours les mêmes. Gazpacho, albondigas en salsa, patatas bravas, crema catalana... toujours pareil. Les tapas que je commande invariablement, les recettes qu'on m'a montré à Burgos, à Salamanque, à Madrid. Et puis c'est tout. Quelle monotonie, quelle tristesse. Mais ouf ça va changer !! Mon flash nostalgique d'une virée madrilaine : sepia con habas.
Blender, perfect sauces, soups, purées, and smoothies, by Linda Doeser
Ce que j'appelle un livre de cuisine-pratique. J'aime l'idée du livre écrit autour d'un appareil ménager dont je me sers TOUS les jours (le smoothie et les shakes en tout genre sont mes goûters officiels depuis le début de ma grossesse, quand Pimprenille n'était qu'un petit haricot qui me rendait malade toute la journée et banissait tout aliment non-liquide de mon alimentation) . Et on dirait que je vais m'en servir encore plus. Je ne sais pas si le Bernard l'Arno a bien réfléchi avant de l'acheter étant donné qu'il peste chaque fois que c'est lui qui est chargé de le nettoyer, m'enfin ça c'est son problème. Mon coup-de-foudre : the satay sauce (pour accompagner les brochettes !).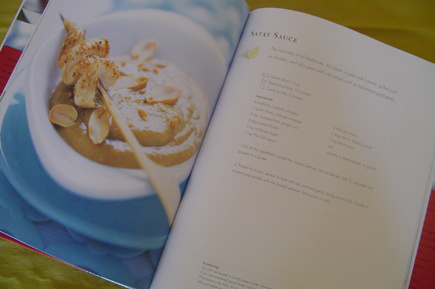 Oh et j'allais en oublier le dessert de la fête des mères ! Mon premier dessert façon je-me-la-pète-depuis-que-j'ai-investi-dans-un-cercle-à-pâtisserie : un royal au chocolat. J'avais la tremblotte en le démoulant mais en fait il présente korrek pour une première fois. Nan ?